Alaska

99645
A family owned and operated farm in Palmer, Alaska, Country Garden Farms continues the harvest of high-quality sod, endeavors to keep local farmland, golf courses and lawns in great conditions by providing only the best sod.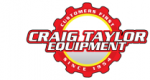 99701
Craig Taylor Equipment was founded in 1954 and has been locally owned and operated ever since. With this many years of experience under our belt, we can proudly say that we are one of the most trusted and knowledgeable equipment companies in Alaska.
For more than 60 years, Craig Taylor Equipment has offered a wide range of equipment services throughout the entire state of Alaska. We strive to maintain the highest standards and exceed client expectations at all levels. While providing sales, rentals and parts for leading manufacturers like John Deere, Bobcat and Doosan, we have also successfully maintained the motto "We Service What We Sell" throughout our long history. With a full service shop in each of our 4 locations in Anchorage, Fairbanks, Soldotna and Wasilla, we have stood behind this motto and provided industry leading repair and maintenance for every piece of equipment we sell.
In mid-2013, Craig Taylor Equipment was purchased by Sean McLaughlin and David Hoffman, a partnership whose collective knowledge and perennial business successes are second to none. Under this new leadership, Craig Taylor Equipment is poised to combine 60+ years of Alaskan equipment experience with new age, state of the art technologies to emerge as one of the top equipment companies in the state.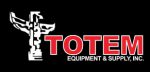 99501
Totem Equipment & Supply has made its mark in Alaska over its 49 year history, keeping thousands of workers and job sites warm with its heaters and supplying job sites statewide with critical equipment. Totem Equipment & Supply was opened in Anchorage in 1961 and was founded by President and CEO Cliff Huston and wife/ business partner Allie Huston.
Today, we continue under a management team headed by President Mike Huston, Comptroller Jessica Huston and Sales Manager Jake Huston. We are proud to claim a second- generation success story with the 3rd generation now also on board. Totem has become more than Alaska's leading equipment distributor, in 1993 Totem Rentals, Inc. was opened as a full service rental company.
The innovative thinking at Totem has given birth to a full fabrication facility, manufacturer of the famous Totem 10 self contained heater trailers. These units are manufactured right here in Alaska and have been popular internationally since the 1970's. We are proud of our Made in Alaska products and continue to make our mark here in our great state and beyond with new products such as fully contained pressure washer trailers, dump trailers, light tower trailers and much more.