New Hampshire
03033
Anrik Irrigation, Inc. is a family run business started in 1995 by Rick and Annmarie Nantel. Celebrating our 20th Season, Anrik Irrigation has been NH's choice for top quality sprinkler installations and service that is second to none. Anrik Irrigation has installed over 2,600 systems both residential and commercial. Our customer base has grown to over 2,800 customers who rely on us for fast, knowledgeable and incredibly courteous professional service.
Anrik Irrigation is a full service lawn sprinkler company. We take great pride in the fact that sprinkler work is all we do. We don't do lawns or shrubs, walls or fertilizing, we specialize in one facet of the green industry and that is lawn sprinklers.
All of Anrik Irrigation key employees have been with us for at least 7 years. We take pride in all of their abilities and the fact that year after year they want to come back to our company. Our employees are truly first class! We receive compliments on their performance and professionalism weekly. Annmarie and I are proud to have them working for us.
Our office is located at 199 Rt. 13 in Brookline, NH. This location is ideal because it allows us to be central to all of our customers in NH and Northern Massachusetts. Our office is staffed from 7:30-4 pm Monday thru Friday. That way, if you have any questions or need to schedule a service call, you know someone will be there to answer your call.
Aside from our installation crew we employee 5 full time service techs, each with a fully stocked van. This allows us to solve most problems in one visit. Their jobs are to maintain all of our accounts from condominiums and commercial to the homeowner. We can generally schedule most visits within 24 hours. No one in our office will tell you to "wait until next week". Service- it doesn't get any better than what Anrik Irrigation provides.

03235
New England Pro Greens and Turf specializes in turf grass and it's installation! With over 50 years of experience we work throughout the Northeast on residential sports fields, and golf courses. Utilizing low ground pressure equipment enables us to maintain the finish grade and tie into existing turf area without compromising the site. We are committed to excellent service in order to complete your project on time and on budget!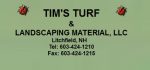 03052
Tim's Turf has been a leading dealer in Landscaping material for the NH community for over 30 years.
Our 30 + years of experience supplying turfgrass and other landscaping material for the New England area will ensure you receive quality products for your home or jobsite on time and at an affordable price.
We service schools, municipalities, homeowners, golf courses, garden centers, landscape contractors
and many others in need of our products and services.