Utah

84701
Diamond K Gypsum produces specialty gypsum based agricultural products to help you realize higher yields and more profits!Give your turf or ornamental plants the nutrients they need for strength and beauty with our turf & ornamental products!If you are experiencing slow infiltration and penetration, run-off and erosion problems, our Aqua-Drive wetting agent is the answer!
The Diamond K Applicator is a revolutionary breakthrough in soil and water application technology!
Our 98% pure gypsum is used as a food binder and an inert pill manufact-uring packaging medium for pharmaceutical drugs.
Our plastic- chemical grade calcium sulfate dihydrate is manufactured specifically for the chemical & plastics industries.
Whether you're looking for the perfect golf course green or your nursery plants need a boost, Diamond K's Turf and Ornamental Gypsum is the answer. It is the perfect product for golf courses, cemeteries, public grounds and parks, as well as private estates and corporate

84058
At ForeUP we provide the most innovative management system and marketing solutions in the golf industry. Our main focus is to increase revenue at our courses through effective management practices and marketing efforts.
We provide the most intuitive and easy to use software in the market. When other softwares have been built by engineers for engineers, the ForeUP team has worked with golf managers and professionals within the industry to create software built by golf pros for golf pros. ForeUP assesses your needs and thoughts and builds solutions that makes your job easier. Come join us in our mission to create the most innovative golf software the industry has ever seen.
ForeUP software is completely cloud based. That means there is no longer any need for servers at the golf course or costly IT support. No more having to back up your system or worrying about your servers going down. Leave those issues to the experts and focus on what you do best, managing your golf course. You are always on the most updated version of the software, and updates are automated. ForeUP software can be accessed through any computer, iPad, or phone. Now you can check up on your course even when you are traveling or at home. Cloud technology is the future in the industry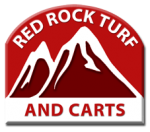 84761
Red Rock Turf & Carts works continuously with several financial institutions and asset management dealers that have pre-owned golf course and turf maintenance equipment for lease or trade-in on their books. We also coordinate directly with golf courses from around the globe to effectively market their equipment.
Red Rock Turf & Carts is dedicated to providing top quality pre-owned turf equipment at affordable prices. How do we do that? Regardless of the type or brand, all equipment goes through a comprehensive inspection process by our team of highly trained technicians, resulting in a clean, dependable piece of equipment.
We use only true OEM parts. If you are purchasing a Toro or John Deere mower, you can be assured that we only use OEM parts.
We do a full grinding service on all reels and rotary units as necessary.
We complete a full quality inspection of all equipment
Our experienced team of account managers makes the sales process easy for you. With our on-line inventory and simple paperwork, you can quickly own the equipment you need for your turf business.
If you need any of your equipment financed, Red Rock has excellent relationships with a variety of funding sources. Just ask any Red Rock associate for more information.
Red Rock Turf & Carts also offers flexible lease and financing packages for any purchase above $10,000. We work hard to find you the most affordable terms and rates available in the industry.
Some of the benefits of financing include:
Fast and easy approval process
Low monthly payments
Flexible payment schedules
Preserve your capital for other needs
Red Rock Turf & Carts makes buying pre-owned turf equipment easy and affordable.