Sun Gro Horticulture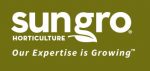 Over the last 80 years Sun Gro® Horticulture has become the leading supplier of superior quality peat moss and peat- and bark-based horticultural growing products to North America, serving both professional and retail markets. In fact, Sun Gro has the proud distinction of being the number one supplier to the top 100 commercial growers in North America, shipping over 70,000 truckloads of product annually.
Sun Gro medium starts with nature's best organic soil conditioner, Canadian Sphagnum Peat Moss. We sustainably harvest high-quality peat from bogs located throughout Canada and the northern United States, which is supplied via 28 facilities strategically located across North America. Over 800 experienced, dedicated employees are there to help customers, and those who grow with Sun Gro know their crops are backed by unmatched R&D and Technical Support. To further promote commercial growing success, Sun Gro also provides water-soluble and controlled-release fertilizers.
Sun Gro Horticulture recently consolidated its leadership position in the professional growing market by acquiring Conrad Fafard Inc., and the Sun Gro Corporate Office is based in Agawam, Massachusetts. We operate 13 customer service centers in every major time zone for personalized service across the whole of North America.
Growers have come to trust Sun Gro® Horticulture for professional mixes and fertilizers that offer crops the most consistent physical and chemical growing conditions for good health. Our products are bolstered by comprehensive analytical and informational services that leave nothing to chance. Backed by our superior technical support and research personnel, we will work with growers to find the best products to fit their needs. From start to finish, Sun Gro® will be there to help all growers achieve superior results every time.
Send Message to listing owner
Please
log in
to be able to send messages to the listing owner.