rhino marking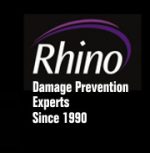 55420
Rhino Marking & Protection Systems provides innovative marking systems to protect buried facilities, help ensure worker safety and protect the environment.
Rhino has been the leader in the Damage Prevention industry for over twenty years. With the introduction of the TriView™ marking system in 1997, Rhino revolutionized the damage prevention industry by providing a 360° visibility marker post that could be used in a variety of applications.
In addition to providing innovative, superior marking products, Rhino is at the forefront of damage prevention industry. Rhino employees serve on Common Ground Alliance (CGA) committees and are involved in the regional CGA in Minnesota.