sod installation

57064
There's nothing like having a pristine lawn. That's why we put so much effort into every project we do. We will do our best to make sure everything is up to your standards.
od establishes itself quickly. In a couple of weeks it's ready for full use. It creates the perfect surface for lawn games and family outdoor living. With today's various blends of hardy grasses, sod is chosen for parks, golf courses, athletic fields, as well as residential homes and businesses.
Sod can be installed anytime during the year when the ground is soft enough to be tilled. People today have busy lifestyles and want convenience and quality. Sod lawns are the perfect option for today's fast paced lifestyle. Our high quality sod can be installed in hours at an affordable price!
This sod is test plotted to withstand the extreme conditions of the upper plains. All three species of our handpicked blend are ranked in the top 25 of Blue Grass species. This blend will "green up" faster in the spring and will stay green longer in the fall. It is disease resistant, weed free and high traffic tolerant. All of our sod is 12-18 months old and cut fresh daily when it is installed. The reason we do this is to give our customers the best possible product available in today's market. What this means to our customers is, they get a product with a healthy root system which establishes itself very quickly with the proper care.
We stand behind our sod with a 1 year warranty.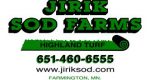 55024
We here at Jirik Sod take pride in our product. We hand select the seed blends, custom made to our specifications to ensure that our customers get the best quality product we can produce. We have been in the industry for well over 30 years and enjoy what we do.
Let us know how we can help you achieve a beautiful lush green healthy lawn for years to come. We look forward to speaking with you.