New Mexico

Description
The Black Mesa Golf Club on the beautiful Santa Clara Pueblo was created utilizing the natural terrain. Black Mesa offers dramatic vistas if the sprawling valley climbing to distant mountains on the beautiful Santa Clara Pueblo serve as an inspiring backdrop at Black Mesa Golf Club. The fairways are framed by arroyos that hug the natural ridge lines and valleys of sandstone foothills, leading to undulating greens in box canyons and beneath rocky ridges.
Every hole is shaped by the landscape and it is not constructed that way. The course plays through dramatic sandstone ridges with Black Mesa visible from several locations. Each hole featured characteristics that make them both strategic and memorable in its own unique way. The layout showcases distinctive bunkering, native arroyos as hazards, and green contouring in keeping with the scale of the natural environment.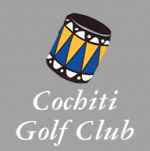 Description
Golf course in Cochiti Lake, New Mexico
The Cochiti Golf Club is an 18 championship hole facility and it is pleasurable fir any guests of any skill to play. The desert mountain course is characterized by challenging tee shots and approaches that will test your accuracy.
Their goal at the Cochiti Golf Club is to provide a pleasant experience that includes a comfortable atmosphere, friendly staff, and exceptional customer services.
Tee Box
Yardage
Rating / Slope
Red
5100 yards
67.6 / 120
White
5841 yards
67.2 / 112 Mens
72.0/129 Womens
Blue
6413 yards
69.8 / 117
Gold
6817 yards
71.7 / 121
Cochiti Golf Club is a full-service golf facility. From the standard outing packages which include green fees, cart fees, and range balls to the great snacks at their Snack Bar, they will address all your needs. When it comes to golf, their professionals know just what it takes to conduct a smooth event. Their years of experience will be evident from the moment you begin planning your event. The rolling terrain of Cochiti Pueblo are the only "bumps" you are likely to experience with your golf event at our facility.