San Diego

Description
Located in the heart of San Diego's Mission Valley within minutes of Hotel Circle and area attractions, Riverwalk Golf Club's 27 holes of magnificent golf, superb amenities and outstanding service have earned it recognition among the region's premier semi-private golf courses. As one of San Diego's top golf courses, we have become a premier destination for San Diego and visiting golfers. Here at Riverwalk Golf Course, we work continuously to improve the course, the facilities and the overall San Diego golf experience.
This San Diego Golf Course boasts mature stands of palm, oak and eucalyptus trees frame undulating fairways and manicured greens, with numerous wetland areas, nearly 100 bunkers and an array of picturesque water features – including four lakes and the San Diego River – creating both strategic diversity and a visually stunning backdrop for a round of San Diego golf. While challenging for low handicappers, the course offers multiple tees on each hole, ensuring an enjoyable experience for golfers of all abilities.
Prepare yourself for an unparalleled golfing experience. Our San Diego golf course is a pleasure for golfers of any skill level to play. The Riverwalk Golf Course will challenge you while providing a relaxing, beautiful San Diego day of golf. Test your accuracy with our fairways, water hazards and sand traps; we have everything you need to challenge you and improve your game. Our goal is to provide you with a quality San Diego Golf experience that includes exceptional service and a comfortable atmosphere.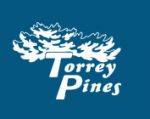 Description
Located in La Jolla (pronounced "la hoya"), California, Torrey Pines Golf Course sits on the coastal cliffs overlooking the Pacific Ocean and is recognized as the premier municipal golf course owned and operated by a city. It is named after the Torrey Pine, a rare tree that grows in the wild only along this local stretch of the coastline in San Diego County and on Santa Rosa Island.
It offers two picturesque and, due to its yearly hosting of the PGA TOUR's Farmers Insurance Open event, widely recognizable championship 18-hole golf courses. It is surely the most accessible public facility for the die-hard enthusiast wishing to play at a world-renown facility that nearly all golfers know by name.
Torrey Pines was the site of perhaps the most memorable modern day U.S. Open Championship, when in 2008, under the typically brutal conditions of this major tournament, injured and hobbling Tiger Woods defeated Rocco Mediate during their sudden death playoff after 90 grueling holes of exciting golf.
Torrey Pines also offers one of the largest on-course golf shops in the United States, expert instruction, tournaments, and advanced golf schools.