Wisconsin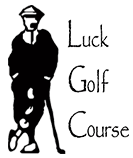 Description
Golf course in Luck, Wisconsin
The Luck Golf Course is bestled on the south shore of Big Butternet Lake and it features a variety of trees and terrain to satisfy players of all abilities. Their beautiful lakeside facility offers eighteen holes of unforgettable golf; ten holes go through a pristine pine and hardwood forest featuring several evelation changes, while the remaining eight holes play through a rolling countryside dotted with majestic oak and maple trees. Big Butternut Lake is visible from numerous areas on the golf course and the fall colors are beautiful.
For over 77 years, Luck Golf Course has been one of the premier golf destinations in Northwest Wisconsin.