california
Description
Golf course in Blythe, California
The Blythe Golf Course is located 5 miles Northwest of the city of Blythe. It is surrounded by beautiful and serene mountain ranges. The Palo Verde Valley stretches below with the Colorado River embracing the valley floor.The blue tees are rated at 72.4 with a slope of 121 and a total of 6,866 yards.The white tees are rated at 70.4 with a slope of 117 and total yardage of 6,447. The red tees are 72.9, slope at 120 and have 5,684 yards in total length.
At Blythe Golf Course, they welcome all golfers regardless of ability. With their staff they have the ability to set the course as difficult or as easy as their members want to play. Their mission is to create the best golfing experience in the desert southwest from the friendly clubhouse environment, with great food and drink at reasonable prices to big screen TV's playing every sporting event imaginable. They challenge their members and guests to sit back, relax and enjoy the amazing panoramic views of the valley below.
Whether you are planning a corporate outing, charity fundraiser or just a fun day of gold with friends, Blythe Golf Course prides itself on delivering flawlessly-executed golf tournaments and outings that exceed your experience at every turn. Their stunning golf course and club amenities make Blythe Golf Course a memorable locale for golf and socializing, while their friendly service, on-site catering and comprehensive even management abilities allow you to relax and enjoy the even while they take care of the details.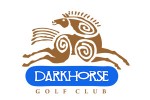 Description
Golf course in Auburn, California
The Darkhorse Golf Club features one of the finest courses built in Northern California. It lies in Auburn in the Sierra Nevada foothills, roughly 50 miles east of Sacramento. The course was laid out on what was once a 1,1000-acre cattle ranch and features magnificent elevation changes. There is however, more than that for those who truly love golf. The holes were gently placed into the curving valleys on the site; the greens are subtly contoured;the bunkers are strategically places and offer a variety of different shot making opportunities. Course Designer Keith Foster has crafted 18 unique holes that will leave you coming back for more.