cyprus creek golf course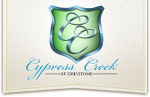 Description
Golf course in Cabot, Arizona
Cypress Creek Golf Course is a full-service golf facility and a true gem, located near Little Rock in Cabot, Arkansas.
Since 1988, their staff has taken pride inserving the Cabot golf community, and they have everything you need for a great course experience. The Cypress Creek Golf Course was designed by an acclaimed golf course architeck Kevin Tucker. Their course is 18 hols as a par 72. From the longest holes it features 7,392 yards of golf, with a rating of 74.9 and a slope of 136 on Zoysia grass. The course is unique, and it will challenge experienced players with its though-provoking kayout while helping casual golfers relax amid the picturesque scenery.
Cypress Creek Golf Course has a Pro Shop that offers the best in equipment and apparel to compliment your game. Their friendly staff will help you reach start times, rent golf carts, and register you and your guests before each round of golf.
There are also chipping and putting areas available, from where you could improve your short game. Cypress Creek Golf Course is also equipped with a driving range an qualified staff available if you need any lessons.