hawaii kai golf course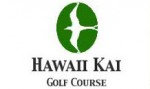 Description
Golf course in Honolulu, Hawaii
The Hawaii Kai Golf Course features both a championship course and an executive course. It is located in East Honolulu, 13 miles from Waikiki. While golfing, the Pacific Ocean can be seen from every day. On clear days, you can enjoy a view of Maui and Molokai. I the winter months, whales can be seen spouting water on their way to water off Maui to five birth. The tropical winds blowing from the ocean might not only be pleasant but quite challenging to both beginners and advanced golfers, making both courses enjoyable to play.
The championship course measure 6500 yards from the championship tee and features wide fairways, large greens with placed bunkers and beautiful scenery.
The Hawaii Kai Executive Course is 2223 yards, 54 par 3 layout that is characterized by small, undulating and sloping greens. The design requires emphasis on the golfer's putting and chipping skills, providing a challenge for even the most advanced player.
The greens are always in excellent condition at Hawaii Kai and tend to be fast especially in the summer months. During the winter season, whales can often be seen in the water around Makapuu Cliff.