kansas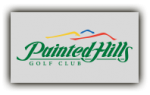 Description
Golf course in Kansas City, Kansas
The Painted Hills Golf Club is an 18-hole public course featuring gently rolling, tree-lined fairways and beautifully contoured bentgrass greens. Opened in 1929 as Victory Hills Country Club, this historic landmark in Kansas City, Kansas has a rich history. Eight holes were redesigned in 1993 and the course re-opened in 1994 as Painted Hills Golf Club.
In 2013 to 2013, Painted Hills underwent a transformation. The Painted Hills Golf Club has 10new greens, new tee complexes on every hole and several completely new fairways.
Painted Hills' bentgrass greens meet USGA specs and range from 5,000 to 6,500 square feet each with soft undulation to provide many pin locations. Every hole has a minimum of four sets of zoysia tees which over a wide range of length to accommodate every skill level of player.
The new fairways have been converted to the new strains of bluegrass in order to provide a dense stand of turf and the ability to accommodate carts when other courses with zoysia are restricted to the path. More than 7,000 linear feet of cart path has been replaced and re-routed.
Twenty-four new fairway and greenside bunkers add appeal as well as the risk/reward in shot making. More than 150 trees were removed to beautify and open up the course and improve pace of play. The entire irrigation system was updated and expanded for better coverage and water control.
Painted hills is located just 20 minutes west of Downtown Kansas City and 10 minutes East of the Legends Village West complex. The Pro Shop sells a good selection of gold caps, shoes, shirts and jackets, as well as golf balls and gloves. Putter's Bar & Grill with its large screen TV's and game tables is a great place to enjoy a beverage and a sandwich after a round of golf. Description
Golf course in Olathe, Kansas
Prairie Highlands ranked 29 in the Nation in the "Top 50 under $50" categry. On a normal day, you can expect to fight strong breezes throughout, demanding a two, and sometimes a three-club swing.
The course was deigned ny well-known Kansas City golf architect Craig Schreiner and owne by Kansas City native David Francis. Prairie Highlands Golf Course opened in May of 2001 and it has been gaining honours ever since. It has also been ranked No. 3 among the state's best public courses by both Golf Week and Golf Magazine and it was the only Kansas City course in either Kansas or Missouri to be ranked.
Prairie Highlands has a rolling landscape, skirted by prairie, on the western edge of Olathe, Kansas. Being consistently featured on Golf Digest's top five "best places to play" list and it is rumored to be high on the list with Colbert Hills and Buffalo Dunes for No. 1 in 2005 after being No. 3 with a four star ranking in 2004. Prairie Highlands was also to host to 2004's Kansas City Cup Finals and also hosted the 2004-2006 Men's NAIA National Championship.
The par 72, 7,100-yard golf course was designed with the golfer in mind. Following the traditions of the game, the course was designed to be walkable, with short distances from green to tee. Fundamental strategies and abundant shot making opportunities are complimented by zoysia fairways and bent grass greens. Four tee boxes play from 7,100 yards from the back tees, to 5,100 yards from the front tees. Errant tee shots will likely find manicured rough or one of 60 strategically positioned sand bunkers, which makes saving par truly rewarding and a birdie nearly heroic. Only deft putting on subtly contoured bent grass putting greens rewards pinpoint accuracy off the tee.