missouri bluffs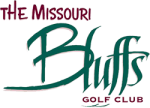 Description
Golf course located in St. Charles, Missouri
The Missouri Bluffs Golf Club is widely considered to be one of the best championship courses in Missouri with its challenging layout and stunning vistas. Opened in 1995, it remains the only St Louis area golf course designed by legendary golf course architect, Tom Fazio.
The total course length from the championship tees is 7047 yards,but with four additional sets of tees lengthening the game to 6610, 6205, 5807 and 5191 yards as well.
The scenery at The Missouri Bluffs is exquisite and the course is gently carved from he best nature has to offer. With tees perched high, pristine zoysia fairways are edged by hundred year old trees and lead to bent grass greens. You might see the occasional deer or maybe even a small while. There could also be a fox or wild turkey with hawks gliding high overhead.
If you enjoy improving your game, then The Missouri Bluffs has the type of facilities where you can practice until you had enough. Their practice facilities start with a huge zoysia range. Numerous targets and bunkers create the feeling of actually playing a course, improving the quality of your practice.
There is also a chipping area for those shot-saving strokes around the green. It is located near the clubhouse for easy access and open all day.