rhodes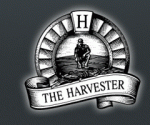 Description
Golf course in Rhodes, Iowa
The Harvester Golf Course has the elements of a dramatic championship course: visually diverse beauty, varied terrain and natural water features – all in a charming setting where a course was sculpted into the land, not built upon it.
If you love the game of gold, The Harvester satisfies. Every time you play, the course reveals itself in new and unexpected ways. From wide fairways to large, fast greens and generous tee times to distraction-free surroundings, you'll finish your round knowing that you've experienced the game in its purest form.
If you are looking for a place to share Iowa's beauty and values with clients or colleagues, The Harvester Golf Club will help you create a golf-centered event that goes far beyond ordinary. The uniqueness of their destination course combined with a pure golf experience will make your event irresistible.
The Harvester can host any size gathering… from a small group of colleagues to a large format tournament to a full course rental for your personal or business event. let their staff help you plan the perfect golf experience by designing a custom package to fit your needs.