The standing appointment, every Friday at 10 a.m., lasted for six full years. The collection of people responsible for building the Olympic Golf Course would discuss the progress of the past week and the deadlines to be met for the week ahead.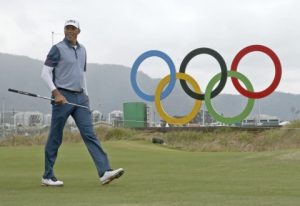 The great-big aim of completing the unprecedented project on time hovered over every call. Now they have done it, now that a world-class golf course sits a few miles from Rio de Janeiro's Barra beachfront, they can admit how much they fretted about not getting it done.
Thursday morning, golf will be played at the Olympics for the first time in 112 years. It will be played on a course designed by Gil Hanse, on a plot of land that, seven years ago, was gnarly scrub and sandy marsh, in a city where environmental concerns, legal quagmires and public distrust complicated every transaction.
Viewers will only see the finished product, a link-style course with firm, bouncy fairways and tricky driving angles that some of the world's best players raved about.
Start of the Olympic Golf Course
The development of the course happened through years of aggravation and work, but they hope they will leave behind a means to grow golf in Brazil. The Olympic Golf Course will be Brazil's first public golf course one the Games end, and organizers plan to create youth-development academies.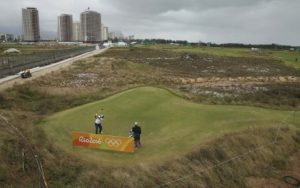 "The seven-year journey that took us here was one that had a lot of twists and turns to it, and was one that probably took longer than we expected it to," Votaw said. "But now that we're here and now that we've had the benefit of seven years of hindsight, those twists and turns have brought us to where we think we have not only a great golf course, but also an iconic venue for these games."
The first challenge of building the Olympic Golf Course was convincing organizers it needed to be built. Rio 2016 officials planned on using one of Rio's two existing golf courses. Upon visiting them, golf officials knew neither course would be incapable of hosting an event of this size. "It took us a couple of years to get people to understand those courses weren't acceptable," Votaw said.
Construction
While they were in talks with Olympic Organizers, the IGF team set about preparing choosing a destination. Votaw first walked the Olympic Golf Course land in 2010. The location, contours and terrain were ideal, but it was nothing but trees and bushed around a bog. For an idea of what it looked, the waste areas on the course are unchanged, and the course was nothing but that kind of land.
The sand-capped earth, though, offered a significant benefit. It could be moved easily to create green complexes, and it would support growth of zeon zoysia, a strain of grass developed in Texas.
Once they chose the land, the challenge of acquiring it became clear. During land sales in Rio, ownership disputes commonly take years to wind their way through courts, and that's what happened for the golf officials. Some Rio citizens began a campaign called "Golfe para quem?" – "Golf for whom?" – that questioned whether the course would benefit or harm Rio.
Once they could start working, they ran into the stumbling block of building next to an environmental reserve. Prosecutors sought to halt construction , claiming it had to sufficiently pass environmental impact tests. Critics disagreed, saying the course would encroach on the Atlantic Forest and endanger the Lutz tree iguana and the fluminense swallowtail butterfly.
The controversy may never be fully settled, but construction went on. The designers had to adjust holes 13, 14 and 15 to conform with environmental standards.
By the time legal issues were finally settle, the IGF team had 2½ years to build the course and another year to grow it in. Votaw credited superintendent Neil Cleverly for producing grass in two growing seasons, a less-than-ideal time frame.