Montana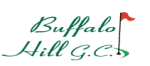 Description
Golf course located in Kalispell, Montana
The Buffalo Hill Golf Club is a member of the Kalispell Golf Association who are responsible for development and enrichment of Buffalo Hills Golf Course. The course dates back to 1951 when a few ambitious players hit the sand greens, and it has seen seven major renovations and layouts and has evolved into one of the best golf courses in the State of Montana. Arnold Palmer opened the Championship 18 to a Grand Opening on August 11, 1978. It is one of Golf Digest's highest ranked courses in Montana, and voted the best golf course in the Flathead Valley 8 out of 10 years, this is a "must play" course.
Buffalo Hill Golf Course features 27 holes of unrivaled golf experience. The tree-lined fairways and push up greens make the Cameron Nine one of the most challenging nine-hole courses in Montana.
Buffalo Hill Golf Club features a brand new state of the art practice facility with four target greens framed by white sand. Their first class facilities boasts the largest teeing area in the state of Montana.
In addition, there are two large putting greens and a chipping green to improve your short game. The chipping green also doubles as an "extra" hole if warranted by construction or course conditions, which may take another green out of play.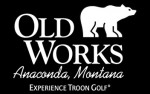 Description
Golf course in Anaconda, Montana
The Old Works Golf Course is built where Anaconda's historic century old copper smelter stood. The course has been designed by Jack Nicklaus and it incorporates many historic relics in his signature design. Old Works Golf Course has a reputation as one of the premiere daily fee golf experiences in the Northwest region.
In addition to the spectacular course, other amenities include a brick clubhouse with its arched windows and copper trim, designed to blend with the buildings prevalent in the early boom days of Anaconda. The entrance corridor includes pictures of an era gone by and the transformation of the Old Works site into of one of the country's most unique golf facilities. Their associates in both the golf operation and dining room will do all they can to ensure that your visit is enjoyable.
There is an on-site golf shop at Old Works Golf Course that features a variety of golf related products for every type of golfer. From clubs, bags and balls to logoed apparel, headwear and a wide variety of unique accessories their intimate shop allows you to browse and find the right items.