buffalo hills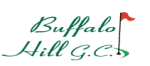 Description
Golf course located in Kalispell, Montana
The Buffalo Hill Golf Club is a member of the Kalispell Golf Association who are responsible for development and enrichment of Buffalo Hills Golf Course. The course dates back to 1951 when a few ambitious players hit the sand greens, and it has seen seven major renovations and layouts and has evolved into one of the best golf courses in the State of Montana. Arnold Palmer opened the Championship 18 to a Grand Opening on August 11, 1978. It is one of Golf Digest's highest ranked courses in Montana, and voted the best golf course in the Flathead Valley 8 out of 10 years, this is a "must play" course.
Buffalo Hill Golf Course features 27 holes of unrivaled golf experience. The tree-lined fairways and push up greens make the Cameron Nine one of the most challenging nine-hole courses in Montana.
Buffalo Hill Golf Club features a brand new state of the art practice facility with four target greens framed by white sand. Their first class facilities boasts the largest teeing area in the state of Montana.
In addition, there are two large putting greens and a chipping green to improve your short game. The chipping green also doubles as an "extra" hole if warranted by construction or course conditions, which may take another green out of play.