golf club of illinois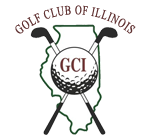 Description
Golf course in Algonquin,Illinois
The Golf Club of Ilinois was built in 1987 by Dick Nugent and Bruce Borlands. It is a classic links-style course featuring high fesque grasses, treacherous sand, and strategically placed mounds on each hole. Early on, the course quickly developed the reputation as a stern test for all skill levels of golfers and it was consistently ranked amount the top 10 public courses to play by Chicagoland Golf.
In 1990, the Golf Club of Illinois hosted the Illinois Open Championship, which was won by Gary Prinns, the only player to break par in the tournament. Since that time, the course has remained a "secret" favorite for those looking for a unique round of golf. The golf Club of Illinois has four distinct tea area and provides a layout to match any golfer's skill level.