purgatory golf club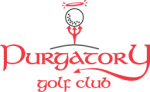 Description
Golf course in Noblesville, Indiana
Purgatory Golf Club is located 31 miles north-east of Indianapolis and it welcomes a wide range of handicaps. The course is built on undulating farmland over 218 long acres. Purgatory is a links style course with very few trees and fairwees surrounded by tall grasses.
Purgatory Golf Club is a nationally recognized jewel, ranked in America's 100 Greatest Public Courses, America's Top 50 Courses for Women, and #1 Course in Indiana.
Purgatory is known for:
Multiple tee boxes: Six tees on every hole, with each providing the right challenge for your handicap.
Course length: Change: Purgatory has the longest sets of tees (7,754 yards from the tips) as well as the shortest (4,562 yards from the far forwards) in Indiana.
Bunkers: Live dangerously by hitting over and around 130+ bunkers, each filled with white, crushed limestone.
Tall grass: Most of the fairways are lined with tall, prairie grass rough.
Risk & Reward:  Purgatory offers the classic risk and reward dilemma by featuring numerous obstacles and in order to challenge golfers of all skill levels.